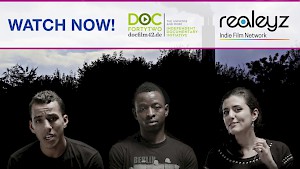 Dear friends* and supporters* of CLOUD MAKING MACHINE,
shortly before the end of this year we have some great news for you!
We are happy to announce that our film can now be seen online on the streaming platform realeyz.de.
Our way to realeyz.de was a joint effort with other independent documentary filmmakers and the result of a cooperation with the streaming service. Among our colleagues* we agreed that we would like to give the many good indie productions the visibility they deserve. Therefore we founded together with other docfilm42.de, a platform for independently produced documentaries - docfilm42.de focuses on diversity and nonconformity and helps social diversity to become more visible. Filmmakers, streaming portals and all* film fans come together here. Take a look.
So now you have the best opportunity to watch CLOUD MAKING MACHINE - Between home & homeland together with your friends* and families over Christmas to New Year. Have fun with the film!
With this in mind we thank you with solidary greetings and wish you a wonderful turn of the year and... world peace!
Your CLOUD MAKING MACHINE Team