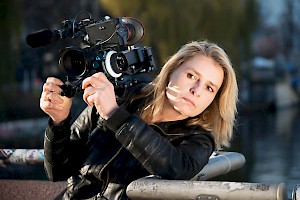 Susanne Dzeik // burning dox
Susanne Dzeik is a freelance writer, director, cinematographer and producer in Berlin.
In the long-term documentary "Nach dem Brand" (Credofilm, nominated for Prix Europa 2012 and the Grimme Prize 2013) co-produced by NDR she worked as a cinematographer. Her topics focus on people in situations of social upheaval and their individual and collective handling of them.
From the early 1990s to 2005 she produced magazine articles for the legendary deep-searching magazine AK KRAAK in Berlin and produced several documentary films, mostly in a collective of authors, with a focus on directing camera, including "Von Mauern und Favelas" (Brazil, 2005, JANGADA Prize, best medium-length documentary, international ethnographic film festival in Rio de Janeiro 2005).
After studying camera at filmArche, she produced and participated in other documentary films, including "Do butterflies have borders?". (2014, Germany), "Liza calls!" (2015, Lithuania) and "My two polish loves" (2016, Poland).
Since 2016 she has been a member of the regional team Berlin/Brandenburg of AG DOK. She teaches film in numerous workshops from Brazil to Cameroon.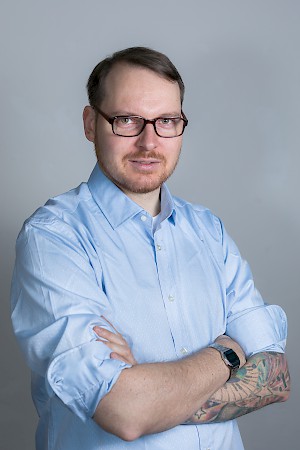 Armin Eichhorn // burning dox
Armin Eichhorn is a freelance filmmaker and producer in Berlin and Leipzig. He is a trained video journalist, has studied music and media/library and information science (B.A.) as well as adult education/lifelong learning (M.A.) at the Humboldt University in Berlin. He is a producer (IHK) in film and television production. He is a trained systemic coach (artop Berlin) and is currently completing his training as a systemic organisational consultant at the artop Institute affiliated to the HU. He currently works in the field of documentary, corporate and campaign film production in Berlin and Leipzig.
Written & directed by: Susanne Dzeik
"Video letters" directed by: Hussam Gosheh, Susanne Dzeik
Assistant director: Armin A. W. Eichhorn, Hussam Gosheh
Director of photography: Susanne Dzeik
2nd camera: Armin A. W. Eichhorn, Tom Rotsching
Sound mixer: Armin A. W. Eichhorn, Alex Töchterle
Electrician: Karen Francia
Produced by: Armin A. W. Eichhorn, Susanne Dzeik
Production manager: Armin A. W. Eichhorn
Post production manager: Armin A. W. Eichhorn, Alex Töchterle
Editing: Susanne Dzeik
Dramaturgical consultant: Alex Töchterle, Gerhard Schumm, Magda Wystub, Aline Bonvin
Color grader: Tom Rotsching
Sound designer: Diego Aguirre
Sound engineer: Diego Aguirre, Kevin Reiter
Musicians: Diego Aguirre, Mohammed Mattar, Diyar Younes, Ahmed El Eraky, Firas Iraqi
Titel designer: Alex Töchterle
Transcriber: Armin A. W. Eichhorn, Susanne Dzeik
Translator: Mohammed Kello, Hussam Gosheh, Leil-Zarah Mortada, Yussef Iskandar, Mira Tesare, Samee Shah, Mamudou Jallow
Caption translator– French: Aline Bonvin
Caption translator – English: Nathalie Tafelmacher-Magnat
Caption designer: Katharina Voss
Digital cinema mastering: Alex Töchterle
Still photographer: Linda Dreisen, Nadia Grassmann
Web developer: Nico Knoll
Graphic designer: Linda Dreisen